WHO IS A-WARE MARKETING?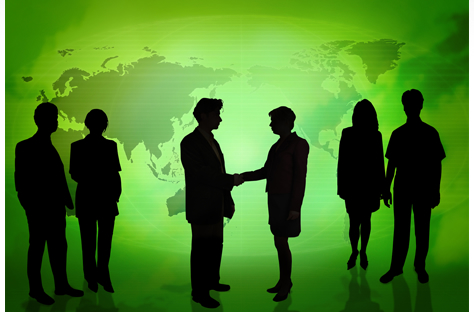 Marketing in one word… AWARENESS! Building the awareness of your products and services is our focus! We are a full service marketing company and our specialties are Custom Graphic Design and Marketing Proposal Development. We provide all inclusive marketing (e.g. consultation, custom design, commercial printing, delivery and/or distribution) at the best prices across the nation!
From Business Cards and Brochures, to Direct Mail and Websites…
"WE'RE YOUR ONE-STOP-SHOP FOR ALL YOUR MARKETING NEEDS!"

COMPANY PROFILE
A-Ware Marketing is a Limited Liability Company (LLC) taxed as a Single-Member LLC.
Service Location: Direct sales throughout the Tri-state area and Nationwide through the internet.
Fictitious Name Registration Date: 4/28/2006 • LLC Registration Date: 6/1/2009
We possess a registered EIN, DUNS and PA Supplier Numbers.

| | |
| --- | --- |
| Our NAICS codes include: | Our SIC codes include: |
| 541430 Graphic Design Services | 7336 Commercial Art and Graphic Design (graphic design) |
| 541511 Custom Web Page Design Services | 7371 Computer Programming Services (custom website design) |
| 541613 Marketing Consulting Services | 8742 Management Consulting Services (marketing consulting) |
OUR MISSION
Our mission is to deliver the benefit of PREEMINENCE throughout the business-world. Preeminence is the focus of understanding the true needs of your prospects, clients, employees, vendors-everyone; and taking responsibility for their well-being. Putting their best interest ahead of your own.

OUR VISION
Our vision is to force the marketing industry to raise its standards as it relates to the care and longevity of their client's and the way they in-turn service their customers.
CORE VALUES
DISCIPLINE – The ability to behave in a controlled and calm way, even in difficult or stressful situations.
TENACITY – Tending to stick firmly to any decision, plan, or opinion, without changing or doubting it.
PERSERVERANCE – Steady and continued action or belief, usually over a long period; and especially despite difficulties or setbacks.
VALUE PROPOSITION
Our graphic design and consulting staff maintain a consumer focused level of creativity so that your clientele's needs, as it relates to your products and services, are met. Giving each of your marketing mediums a unique, innovative, professional and up-to-date image is what sets us apart from our competition. Templates of online designs you simply type your contact information into, rarely sets you apart from your competition.
Additionally, our all inclusive, competitive pricing (25-50% less), process and proposal writing, provide you with all the details you need to make a safe and confident decision regarding your marketing needs.
WHO IS LEON MCMILLAN?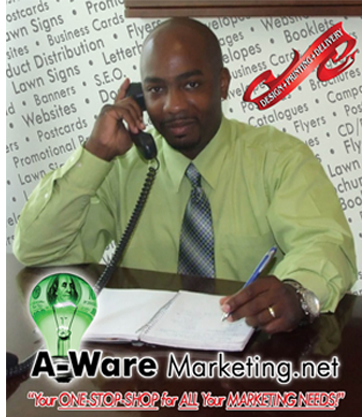 Leon McMillan, the Owner/Operator of A-Ware Marketing, oversees the daily business operations and development. He has been a marketing professional for over 12 years. He has an Associates* in Business Administration from Cheyney University, by way of Bethune-Cookman University. He has completed many Microsoft Office, Adobe Suite, Business-to-Business and Consumer Relations trainings and certifications courses. He has ran and facilitated several successful businesses, such as a car brokerage and sales, a real estate investment company, and worked as the Regional Marketing Coordinator for Merrill Lynch (First Franklin Financial) were he serviced anywhere from 25-50 sales reps for over 6 years.
OUR TEAM
A-Ware Marketing's unique team of over 11 independent contractors and part-time employees possess over 25 collective years of graphic design, website design, sales and administrative skills. With a focus of stay on the cutting edge of creativity, technology and excellent customer service we are able to offer all inclusive marketing at the most unbelievable prices within our industry.